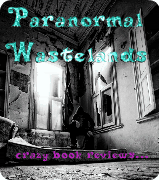 Hello Muses and Fallen Friends,
I have a very special guest today. This is the first of many posts such as this one where I will be spotlighting...bloggers! That's right. Bloggers will be interviewed throughout the month. I am so very excited to be kicking off this event with someone who not only runs a super cool, award-winning blog, but she's also a great person too.
I'm sure many of you will already know who she is but I'd like to roll out the carpet and set up the drum rolls anyway please. Today we interview the fabulous Greta Maloney, one of the masterminds behind the Paranormal Wastelands. She'll be sharing info about her life as a blogger as well as sharing some news on a few upcoming events at her place. Okay, enough babbling. Greta will take the floor now.
My name is Greta. And I am a blogger! My blog is called the Paranormal Wastelands.
SM: Where were you born and where do you call home?
I was born in Ohio and now live in Alabama near Birmingham with my husband, son, two kittys, and pet turtle – Little Dude.
SM: How long have you been blogging?
I have been blogging with Paranormal Wastelands for a little over a year. But I have been blogging as a guest for probably around 3 years.
SM: What was your most favorite character and why?
My favorite character is Lachlain MacRieve. He is from Kresly Cole's "Hunger Like No Other" which is from her "Immortals After Dark" series. He's my most favy fav character!! After I read all the "Twilight" books I was looking for something with a bit more bite and that is when I met a big hulking werewolf named Lachlain. Oh, and he's a Scottish highlander too. Perhaps, I have a weakness for them. I like those guys that appear untamable but really are...but only by their woman.
SM: Have you written a book yourself or are you planning to in the future?
I actually have and let me tell ya…. It's freaking NERVEWRACKING! It amazes me how authors can pound out so many words in so little times. It boggles my mind at their easy flow of ideas and knowledge of the English language. I'm one of those peeps who just plays Minesweeper for a while until writing a paragraph and calling it a day. I can tell you that watching "Smallville" was a Godsend for me when writing my book. It seemed to have made it bunches easier.
SM: What genre is your favorite and why?
My favorite genre is horror. I like it because it's versatile. You can have paranormal horror, thriller horror, fantasy horror, modern fairytale horror. It's all over the place. But I love it when things go BAD and things start scratching outside their windows. It makes me squee with delight!
SM: That last answer of yours is a personal fave of mine. Being a writer of the strange, odd, and unusual myself I like hearing these things. hehehe
SM: Is there an Author that you would really like to meet?
Kresley Cole or Maggie Stiefvater. I have to choose both of these lovely ladies because I've had dreams of getting their books ahead of their release date. And if you have dreams of reading unreleased books...well, that's borderline fangirl. ;)
SM: Do you prefer ebooks, paperbacks or hardcover?
I like paperbacks. I absolutely HATE hardcovers. I like to be able to bend the spine back and throw it on the coffee table, and grip the pages if I need to. E-books are great for indie authors and I understand that it's the best way to start… but paperbacks will always be my fav.
SM: Where do you prefer to buy your books?
I actually rarely buy books. Now, before you call the authorites on me, let me clarify… I DO NOT ILLEGALLY DOWNLOAD BOOKS. Nope! I go to the library!! That is how I get most of my books. Because I live near Birmingham, Alabama, I am able to get my books from nearly 40 libraries in Jefferson County… and it's great!!! I only buy a book if I know it is going to be read again or is by Kresley Cole. She is probably the only person who gets my money. And when I buy her books they either come from Amazon.com or Wal-mart.com. It depends on who is cheaper.
SM: Have you ever read a book more than once?
Oh lord yes!! But I'm finding it more enjoyable to listen to the audiobooks after I read the books. The Night Huntress Series are some of the best audiobooks out there.
SM: Is there a particular movie or TV series that you preferred over the book version?
Yes!! The movie version of "About a Boy", "Girl Interrupted", and "P.S. I Love You" are all better (in my opinion of course) than the book version.
SM: Are there any new Authors that have grasped your interest recently and why?
YES!! Kealan Patrick Burke and Ania Ahlborn are two horror/thriller authors who everyone should keep their eyes on. Ania has impressed me with her descriptive imagination and Kealan has made me gasp with his way with words.
SM: What are your thoughts on book trailers?
I never ever ever watch them. Well, I say that… I did watch the "Forever" one by Maggie the Shiver Lady, but I think that was the only one. I'm just not interested in them, ya know?
When authors slam a bad review given on their books. As a book blogger, it is our goal to get our opinions out there. If a booked sucked a duck then it is our mission to let our readers know that we did not dig it. There's nothing wrong with not liking a book or a movie. Everyone has their own taste in everything. Books are just what we choose to talk about and authors need to chillax about the negative feedback. They need to learn how to use it in a positive way.
SM: How often do you blog?
I blog probably once a month. But, I write around 9 -12 posts that day to be posted throughout the month. Just a couple of months ago, I uploaded all of my Waiting on Wednesdays until December. That took me two days… all day! But I was thrilled with that accomplishment.
SM: How many books do you read in a month - roughly?
I probably read about 2 novels and maybe 5 kid books a month. I enjoy reading for both age groups. Here lately it seems like it has been less do my knitting. But I listen to audiobooks every morning while walking my baby turtle, Little Dude, and I go through about 2 of them a month.
SM: What is a movie or TV show that you watched recently and really enjoyed?
I went into "Extremely Loud and Incredibly Close" thinking that I would hate it and it turns out I loved it. I read the book shortly after and it was even better. I do recommend watching the movie first! It was brilliant both ways (movie and book)
SM: Where can we STALK you?
I will warn you… My facebook updates are mainly of my turtle!!
One thing I would like to mention before I go is: Zompacolypse!!
Zompacolypse is Paranormal Wastelands' tribute to Halloween. We have a month long celebration, kicking off October 1st, with loads of guest bloggers, author interviews, spooky giveaways, and it all ends in a big Halloween book blog hop. This is the 2nd year we have done it and we can only expect this one to be bigger and better than before.
So, when you hear that bump in the middle of the night… remember… it's not the cat… Zompacolypse is coming!
To find out more out more about Zomp simply visit the Official Zompacolypse page:
Thank you so much for taking the time to do this interview with me and allowing us a glimpse into your blogging world.

We will be spotlighting authors throughout the month of September. Soooo check back often!